Ana Mendieta: Earth Body, Sculpture and Performance 1972-85
One Universal Energy Runs Through Everything
Erin Dziedzic
Ana Mendieta: Earth Body, Sculpture and Performance 1972-85 sensitively reflects the art, life, and legacy of Ana Mendieta. This comprehensive traveling exhibition, at the Des Moines Art Center in Iowa from 25 February to 22 May, 2005, included Mendieta's early intermedia work, films, Siluetas, Rupestrian Escultures, sculptures and objects. Iowa marks the location where Mendieta's artistic career blossomed. Born into a Catholic family in Havana, Cuba in 1948, Mendieta was sent to the United States with her sister Raquelín under the auspice of Operation Pedro Pan,[1] to escape Communist rule under Fidel Castro. Miami, Florida was the first ground the young girls touched in the United States but after a short time they were relocated to Dubuque, Iowa with aid from the Catholic Church. The rapid intersection of Cuban and North American cultures and the pain of exile at such an early age greatly affected her artistic development. Memories of Cuban culture remained a constant influence in Mendieta's art, leaving us with an intimate visual diary of how these memories were migrated into an American context.
Mendieta created most of her early 'earth-body works' in the creeks and on the land, in and around Cedar Rapids, Iowa. Curator, Olga M. Viso, who organized the exhibition of Mendieta's art, emphasized the inherent power of her work to evoke the deeply physical and spiritual presence of Mendieta, a potential which Mendieta attested to in her own personal writings, "there is nothing as beautiful and humanizing in a work of art than that which sharpens sensibilities and opens new worlds to man."[2] Upon entering the Des Moines Art Center one is 'reintroduced' to Mendieta, an artist whose work made a profound impact on performance/body art of the 1970s, early intermedia art, Latin American art, earth-body art, and feminist aesthetics.
Untitled (Glass on Body Imprints), 1972, Photograph. © The Estate of Ana Mendieta Collection, courtesy Galerie Lelong, New York
Untitled (Glass on Body Imprints), 1972, Photograph. © The Estate of Ana Mendieta Collection, courtesy Galerie Lelong, New York
The exhibition opens with a collection of photographs, films, and personal artifacts from Mendieta's years as a graduate student at the University of Iowa. Works like 1972 Glass on Body Imprints, reveal her budding interest in the newly developing intermedia program implemented into the university curriculum by Hans Breder. Glass on Body Imprints, document, in photographs, a series where Mendieta presses a square piece of plexiglass directly onto her face and body, radically distorting her features. This type of body art, in which the body is a sculptural material, was introduced to Mendieta through the Multimedia Program and the Center for New Performing Art.[3] Body art had such a profound impact on the way Mendieta began to interpret the body as sculpture that by 1973 Mendieta was posing for Breder's unique photographs of the body as sculpture which were also displayed, courtesy of Breder, alongside Mendieta's work. This supplemental material accompanying Mendieta's art, included within the same space, reinforces her own interest in the connection between art and life. These unique additions help to facilitate the intimacy already present in the space while giving those who are less familiar with Mendieta's work the opportunity to see the artistic traditions and influences she was working from at the time.
Mendieta, like many artists of her era, took her work out of the studio, with the majority of works produced in the landscape - shaping the earth, digging her hands into it, and manipulating it. Although, such ephemeral works intended to defy the art-market system in a particular kind of way, they were conserved and re-articulated through photographs and video, which subsequently formed a significant part of Mendieta's art. This exhibition is not organized as a typical hanging canvas show but rather enhances Mendieta's own interest in a variety of media. There is an eclectic mix of works on paper side by side with sculptural works, video and photographs.
Mendieta's personal notebooks were also delicately displayed as an intimate focal point of the exhibition, providing a beneficial resource for understanding her creative thought processes. Mendieta described her own art as follows,
My art is grounded in the belief of one universal energy which runs through everything: from insect to man, from man to spectre, from spectre to plant from plant to galaxy.
My works are the irrigation veins of this universal fluid. Through them ascend the ancestral sap, the original beliefs, the primordial accumulations, the unconscious thoughts that animate the world.[4]
The careful organization of this exhibition is receptive to the way Mendieta explained her own art. Mendieta's medium evolves over the course of her artistic career but visual components like the female body and the use of earth materials remain constants, supplying her oeuvre with universal energy yet receptive to social, religious, political, and feminist concerns. Where Mendieta explored the female body as a spiritual catalyst for a myriad of social topics, Robert Smithson worked directly with the idea of entropy in the site, non-site, and attacked the idea of an art centered on human beings.[5]
A major highlight of the show is the inclusion of several of the close to eighty short films that Mendieta created over a lifetime. These silent films on Super-8 color, were restored and projected onto white screens that measure about 4'x3'. Situated evenly throughout the gallery they coalesce to generate lucid shifts in Mendieta's oeuvre from her student years in Iowa to practicing 'professional' artist after her move to New York in 1978.
Untitled (Body Tracks) from 1974 is a compact work, a short one minute and ten seconds, wherein Mendieta silently executes a powerful wall drawing. Mendieta stands facing the wall, both blood-stained hands and forearms raised above her head against its white surface; she gradually slides down onto her knees, tapering the stained markings from her hands to a place where they meet at the bottom of the wall but never quite converge in on one another. This recorded action commences when Mendieta stands, shaking, and turns to address the audience for a brief moment before exiting the field of view. By eliminating the 'paintbrush' Mendieta is able to use her own body to control her desired outcome rather than relying on an objectification of the male gaze as dictator to the female body. Quite unlike Yves Klein's anthropometric painting from the 1950s where naked females painted with their bodies under the instruction of Klein's own male ego, Mendieta became both the instructor and participant in the gesture of her own female form. Untitled (Body Tracks) is a vivid and compelling foreshadowing to Mendieta's unified body of work.
\
Untitled (Body Tracks), 197435mm-slide documentation of a performance with blood and cloth also documented as Super-8 color, silent film © The Estate of Ana Mendieta Collection, courtesy Galerie Lelong, New York
Mendieta was intensely involved in Hans Breder's intermedia program by the early 1970s and aware of body performance artists like Vito Acconci, Hannah Wilke and Carolee Schneeman, but distanced herself from their often specifically psychological aesthetic, concentrated, for the most part, in the urban environment.[6] Many of Mendieta's works were executed out in the woods or by secluded streams and had strong spiritual relationship to the landscape, while Adrian Piper, for example, took to the streets of New York with an agenda of objectifying herself in order to politicize the social conventions of "otherness." They both concentrated on non-art spaces but developed completely different body aesthetics. In early filmed performances Mendieta's connection to spiritual elements, violence, and feminism stemmed from rapes that were occurring at the University of Iowa campus. Later, Mendieta's body was still a major component of her short films but she expanded on a dialogue between body and earth, eros and life/death, and the aesthetic of physical and conceptual spirituality. Mendieta accomplished this not only by using video as an ephemeral component but by using materials like gunpowder, fire, grass, and dirt to lessen the idea of preservation as a means to experiencing her work.
The Siluetas (silhouettes) are Mendieta's most recognized works due in part to the recent inclusion of Imagen de Yagul (Image from Yagul), 1973 in Survey texts like Gardner's marking the paradigmatic beginning of Mendieta's impactful Silueta Series.[7] It is one of the smaller works represented in the exhibition but it clearly marks a formative transition in Mendieta's art which leads to a more solid focus on the female body and the earth which rests outside of an urban social context. This work is a photograph taken of Mendieta lying nude in a pre-Hispanic tomb, at the Mesoamerican site of Yagul, covered in a spray of white flowers. Variations on the Siluetas developed over time as Mendieta wrapped her body in a white sheet for Untitled, 1975 at Cuilapan Church in Oaxaca, Mexico, allowing the ghostly form of her contorted figure to protrude from the tightly pulled fabric.
Imagen de Yagul, 1973 Lifetime color photograph © The Estate of Ana Mendieta Collection, courtesy Galerie Lelong, New York
Mendieta's silhouettes stand frozen in time by photographs yet this trace element allows the viewer to get a sense of the performative element which is another constant in Mendieta's art. The body is suggested in later Siluetas by carving away or adding natural materials and is often enhanced by fire, grasses, flowers, gunpowder, sticks and other natural materials.
Atabey (Mother of the Waters), 1981 Photo-etching on chine colle © The Estate of Ana Mendieta Collection, courtesy Galerie Lelong, New York
The Silueta Series gave way to Mendieta's Rupestrian Escultures. This series of silhouettes were carved into remotes caves on the outskirts of Havana, Cuba. These simple human-like forms take on a position of monumentality through the medium of photography, powerfully dissociating one from their current context and taking viewers to an ancient culture. The Rupestrian Escultures are exhibited as massive photographs and smaller photo etchings, which Mendieta had intended on compiling into a book format. These images reside in a central area of the gallery and establish nice shift into Mendieta's later work where she begins to explore the Silueta as a free-standing sculpture.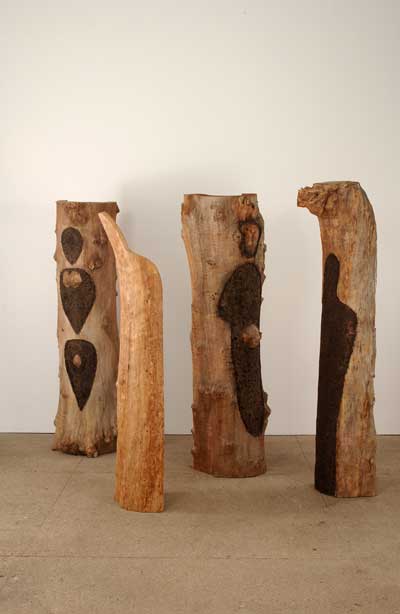 Untitled (Totem Grove Series), 1984-85 Series of four sculptures of wood and gunpowder© The Estate of Ana Mendieta Collection, courtesy Galerie Lelong, New York
The Totem Grove Series are some of Mendieta's final works. Using gunpowder Mendieta burned dark shadowy silhouettes into the surfaces of the tree trunks. On some the nubs and lump are left on the trunks to accentuate female genitals and breasts. They are thoughtfully grouped together in a configuration similar to how they were arranged in her studio in Rome, Italy. Since these works were not previously exhibited it is unclear if Mendieta had intended the sculptures to be seen independently or as a group. The Totem Grove Series was a big step in Mendieta's career; she was unaccustomed to working in a studio space, making us wonder what direction the silhouette would have taken.
Though we will never know what would have followed in Mendieta's oeuvre, we can agree that her art explored multi-media to its fullest, creating an intertextual exploration of life, art and the body coupled with ancient religious imagery and the 'memory of history.' This exhibition sustains the belief Mendieta's art has one universal energy running through everything. Ana Mendieta: Earth Body, Sculpture and Performance 1972-85 is an accomplished success which brings people closer to Mendieta's persistent search for origin. Along the way the spiritual legacy of Mendieta's art refuels our very own search for origins.
Erin Dziedzic is an M.A. candidate in the Savannah College of Art and Design's Art History Department. Questions/Comments nire228@hotmail.com.